Your Employee Engagement Surveys
Gather feedback with pre-built employee engagement surveys
Fully automated pulse surveys
You'll get pre-written pulse questions sent out to your team automatically via their app, which gauge how engaged they are across 6 key areas. 
Your employees have the freedom to answer questions weekly or monthly (or even every day if they want), whilst our AI makes sure you always get a consistent flow of highly accurate data in every area (see how). Giving your team this flexibility helps them to answer with more thought, more often. 
All survey questions have been designed with the help of Jill Garret, ex-MD of Gallup, whose wealth of experience has helped to ensure that every question we ask gets to the heart of the issue.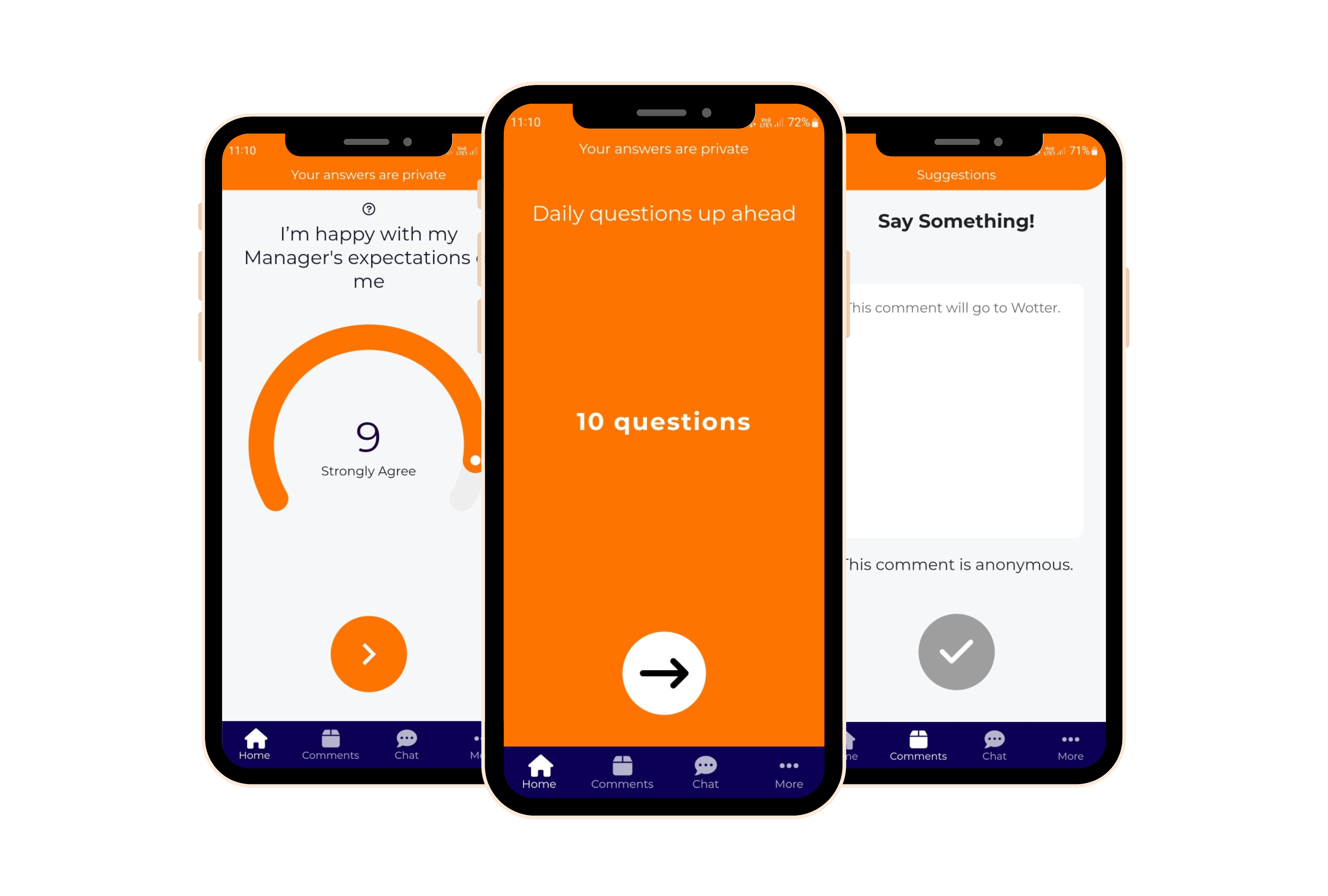 You'll also be able to create and send out your own questions via the Wotter dashboard to get immediate feedback on anything specific to your company. 
Let your team answer on their terms 
Get more thought-out feedback 
Scientifically-backed automated surveys 
Custom questions sent at the push of a button 
The 6 categories of employee engagement
Our pre-built surveys are all based around these 6 core areas of engagement:
Our research indicates that these 6 issues, and how an individual feels in relation to them, are the main influences on productivity and retention.
Each category of engagement is split into 4 more specific topics, each with their own set of pre-written questions that delve into how your employees truly feel.
Your insight into each of these subjects gives you the power to create an engagement strategy with a strong foundation rooted in the most important facets of your company culture.
Get building your employee engagement strategy today
Book in for a demo and we'll show you what Wotter can do for your business.