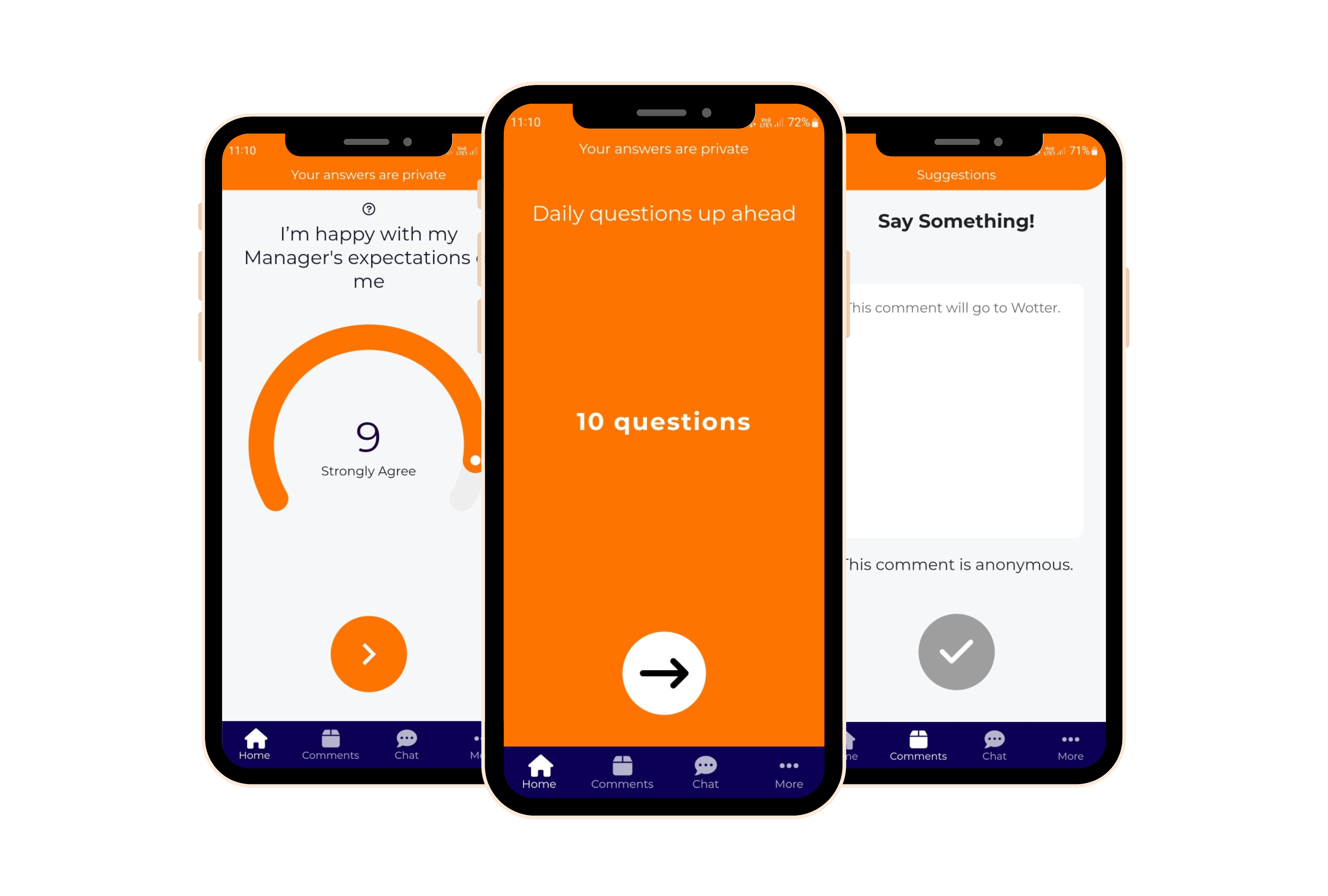 Every member of your company who is signed up to Wotter will have unrestricted access to our mobile app, where they'll be able to provide honest feedback into how they're feeling.
It's available on both major app stores and there's even a web version if needed!
Track
24 key areas

of employee engagement.
Your staff will be asked a variety of questions, built to target 24 key areas of employee engagement. Questions take an average of 7.7 seconds to answer, so you'll be up and running with actionable insights in no time!
Get
direct feedback

from your staff, anytime, anywhere.
In a work environment, it can often be challenging to voice your feelings. With our virtual suggestion box, staff can say whatever is on their mind at any time, be it positive or negative.
Open
honest channels

of communication.
Through the Wotter app, your staff will have a platform to anonymously talk with you, providing a space for honest, open communication.
All that data has to go somewhere! With the Wotter Dashboard, you'll find all of your data broken down into simple, easy to analyse sections.
Using AI, we'll show you where the pain points are, as well as help you track the effectiveness of your fixes.
Break down your data into
easy to manage

sections.
Analysing the data that comes from the app is hard. Which is why we've broken it down into key areas that we call "Modules".
Each module provides you a brief overview into a specific area. Including things you can work on, things you're doing well, app engagement levels, notes, and more!
Track your actions to
see how effective

they are.
Actually taking the steps to improve the engagement within your company is one thing (and a very good thing at that!). But how do you know whether your efforts are paying dividends?
With our action tracking system, you can track your actions against any of our 24 pillars, to make sure that it's providing the output that's beneficial for everyone.   
Find out more about the
key areas

of employee engagement.
All of the questions we ask at Wotter can be placed into 1 of 6 categories; Loyalty, Leadership, Trust, Collaboration, Personal Wellbeing and Professional Wellbeing. 
These can all be further broken down to give you our insights page. Which will show you at a glance how your company is performing in each one. Want to find out more? You can click into the insight to see a detailed breakdown of where the score has come from.
Carry on the conversation with
honest feedback

.
As feedback starts rolling in, you'll come across notes that you want to delve a little deeper into. With our messages system, you can do just that. 
Staff will remain anonymous, allowing you to carry on the conversation to get to the root of the issue. Maybe you could create a new action as a result?!
Book in for a demo and we'll show you what Wotter can do for your business.